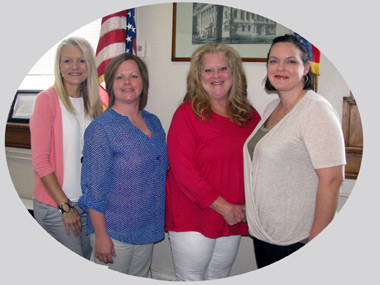 CONTACT INFORMATION
700 Webster St. Suite 10
Chillicothe, MO 64601
660-646-8000 ext 3
Fax: 660-646-8010
countyclerk@livingstoncountymo.com
Our office is open 8:30 a.m. to 4:30 p.m. (including the lunch hour) Monday thru Friday.
COUNTY STAFF
Pictured, left to right
Sherry Parks, County Clerk
Wendy Moss, Deputy Clerk
Tina Tye, Deputy Clerk
Allisha Eckert, Deputy Clerk

Return to Top
Required by the State of Missouri:
Online Notary Training | Statute Changes Regarding Notary Commissions

How To Become a Notary Public
Notary Public books and applications are available at the County Clerk's Office.
Steps to becoming a Missouri Notary Public:
1. Read booklet provided by State.
New books are now available and may be obtained from the County Clerk's Office.
2. Complete mandatory training required by Secretary of State's Office.
Each person completing training will be certified and receive a certification number.
Link to Missouri Secretary of State's website to take the required training.
3. Send completed application to the Secretary of State.
Application is located in the booklet – a $25.00 fee to the Director of Revenue should be included.
Certification number should also be placed on the application.
4. Obtain a notary bond from an insurance company.
This should be done after a letter is received from the State notifying you of your commission dates.
5. Bring the notary bond to the County Clerk's Office, take the oath, sign the Notary ledger and pick up the official Notary Commission Certificate.
A $3.00 fee made payable to Livingston County is required.
6. Obtain a notary stamp and other supplies.
The County Clerk's office does not sell embossers or notary stamps.

April 4, 2023, General Election >>>
Election Result Summary, November 8, Livingston County, Missouri
Ballots for the November 8, 2022, General Election >>>
Unofficial Election Night Results from Livingston County, Missouri for the Primary Election August 2, 2022
Ballots for the August 2, 2022, Primary Election >>>
April 6, 2021, election results are available here.
Voter turnout for above municipal elections...
Livingston County - 12.56% of registered voters cast a ballot.
Caldwell County - 13.48%
Carroll County - 23.19% (the highest of the area counties)
Daviess County - 7.45% (the lowest reported in the area counties)
Grundy County - 17%
Linn County - 11.52%
Anyone needing to vote using an absentee ballot in any election may contact the county clerk's office to inquire about the process. Regular office hours are 8:30 a.m.4:30 p.m., Monday- Friday. Special arrangements for absentee voting can be made by calling the Livingston County Clerk's office at 660-646-8000, ext. 3.
Voting Procedures
C-T Photo

After being identified within a ledger by their form of photo identification, Livingston County voters are shown the correct voting process on the large, two-sided ballots prior to them entering the voting kiosks and making their final decision on several political questions. Voters connect the front and back of an arrow next to their candidate's name with a solid pen line to cast their vote.
Election Judge Information
Qualifications of election judges.
115.085 RSMo. No person shall be appointed to serve as an election judge who is not a registered voter in this state; provided that, before any election authority may appoint judges who are registered voters of another election authority's jurisdiction, the
election authority shall obtain the written consent of the election authority for the jurisdiction where the prospective judges are registered to vote. Each election judge shall be a person of good repute and character who can speak, read, and write the English language. No person shall serve as an election judge at any polling place in which his or her name or the name of a relative within the second degree, by consanguinity or affinity, appears on the ballot. However, no relative of any unopposed candidate shall be disqualified from serving as an election judge in any election jurisdiction of the state. No election judge shall, during his or her term of office, hold any other elective public office, other than as a member of a political party committee or township office, except any person who is elected to a board or commission of a political subdivision or special district may serve as an election judge except at a polling place where such political subdivision or special district has an issue or candidate on the ballot. In any county having a population of less than two hundred fifty thousand inhabitants, any candidate for the county committee of a political party who is not a candidate for any other office and who is unopposed for election as a member of the committee shall not be disqualified from serving as an election judge.
If you are interested in serving as an election judge for Livingston County, click here for the form as a pdf file.
CT 02 25 19 - On Feb. 22, County Clerk Sherry Parks and poll workers tested the county's absentee voting machine in accordance with state law. Parks said the April 2 election will be the third where absentee ballots are placed into voting machines and not envelopes. By using the voting machine, like is done on election day, it saves poll workers time counting ballots on the day of the election. Parks and test judges for absentee voting, Louise Rensoner (left) and Pat Smith (right), will run 489 test ballots on the absentee voting machine which is located in the clerk's office and is available for absentee voting during regular business hours, 8:30 a.m.- 4:30 p.m., Monday-Friday, and again from 8:30-12:30 p.m. on March 30. Parks noted there are 27 ballot types for the April 2 election depending on where a voter lives in the county and what is on the ballot for that city or township. In Livingston County, there are 10 voting precincts. The county has a total of 14 voting machines for the upcoming election. Random testing of the one of the county's precinct voting machines will be done at a later date.
CT 10 26 18 - A public test of the county's voting equipment was recently conducted. From left, Louise Reasoner, Republican judge; Patricia Smith, Democrat judge; Sherry Parks, county clerk; and Wendy Moss, deputy election clerk.
Archived Election Results
2014 Elections | County Elections 04/02/13 | National Election 11/06/2012
Municipal Election Results 04/05/11 | Election 11/02/10 | Election 08/03/10
Election April 6, 2010 | Election Results 11 04 08 | Missouri Primary Election 08 05 08
Presidential Preference Primary 02 06 08 | April, 2007 Election
November, 2006 Election | November 8, 2005, Municipal Election | April, 2005, R-I School Board Election


Click here if you need to download the FREE Adobe Reader software necessary to view PDF files.
COUNTY LIQUOR & AUCTIONEER LICENSE
Available at the County Clerk's Office:
700 Webster St., Suite 10
Chillicothe, Mo 64601
660-646-8000 Ext. 3
Prices vary.
A State Liquor License should be applied for and received before contacting the County. A County Liquor License must be renewed by June 30th each year.
Current Plat Books are available at the County Clerk's Office. Following is a price list for the current books and maps.
Plat books - $30.00
Postage - $5.00
Wall Maps (48" X 36") - E 9-1-1 Grid with landowners - $ 45.00
Road Maps (24" X 24") - E 9-1-1 Grid
Color - $7.00
Black and White - $3.50
Chillicothe 9515
Chula 210
Dawn 128
Ludlow 137
Mooresville 91
Utica 269
Wheeling 271
You may visit http://www.census.gov/ for information regarding the census.
Voter Qualifications
18 Years of age by Election Day
US Citizen
Missouri Resident
No person shall be entitled to vote...
While confined under a sentence of imprisonment
While on probation or parole after the conviction of a felony
After conviction of a felony or misdemeanor connected with voting or the right of suffrage
How to Register
Request a mail-in post card registration
Register in person at the County Clerk's Office
Missouri's new photo voter ID law went into effect August 28, 2022. Voters who do not have a photo ID may be able to obtain one by contacting the Secretary of State's office online at https://www.sos.mo.gov/showit2vote, or they may call 573-751-4936. If a Livingston County resident fails to receive a voter registration card, and they believe they should have, they may call the County Clerk's office to discuss the situation.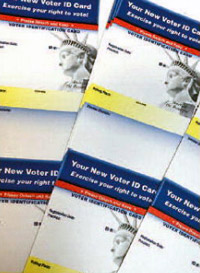 Individuals who are unable to vote at the polls may contact Sherry Parks, county clerk, to make arrangements to vote absentee. Absentee ballots are available six weeks prior to each election. The county clerk's office is located on the second floor of the courthouse. The telephone number is 660-646-8000 ext. 3.
PRECINCT
POLLING PLACE
ADDRESS

Blue Mound & Monroe Townships

Jenkins Community Center

21420 Hwy F, Dawn

1st Ward, Chillicothe City

United Methodist Church

1414 Walnut St., Chillicothe

2nd Ward, Chillicothe City
Turning Point Church


(formerly Bethel Assembly of God)

2971 Washington,
Chillicothe
2nd Ward, Rich Hill City
Turning Point Church


(formerly Bethel Assembly of God)

2971 Washington,
Chillicothe
3rd Ward, Chillicothe City

Calvary Baptist Family Life Center

206 Locust St., Chillicothe

3rd Ward, Rich Hill City

Calvary Baptist Family Life Center

206 Locust St., Chillicothe

4th Ward, Chillicothe City

Calvary Baptist Family Life Center

206 Locust St., Chillicothe

Chillicothe & Rich Hill Townships

United Methodist Church Christian Life Center

1414 Walnut Street, Chillicothe (bottom level)

Cream Ridge & Medicine Townships

Chula Community Center
625 Mansur St., Chula

Fairview & Grand River Townships

Avalon Community Center

21988 Park St., Avalon

Green & Mooresville Townships

Mooresville Community Center

408 Main St., Mooresville

Jackson & Sampsel Townships

Mildred Litton 4-H/FFA
Community Center

10856 LIV 235, Chillicothe

Wheeling Township

Wheeling Community Center

309 N. Third St., Wheeling
Still Not Sure Where to Vote?
Polling Place Look-up: https://s1.sos.mo.gov/elections/pollingplacelookup/
Missouri State Archives : http://www.sos.mo.gov/archives/resources/resources.asp
Coming Soon!
Meetings & Legal Notices
Coming Soon!
Click meeting of interest to see agenda.
Anyone who has questions about valuations need to contact the assessor's office. All other questions may be directed to the clerk's office.
Click here to view the current Livingston County Levies.
Assessor's Office: 660-646-8000, ext. 2
Clerk's Office: 660-646-8000, ext. 3
Liv R-1
4.4700
Liv R-2
4.7053
Liv R-3
5.0686
Carroll R-1
4.1477
Carroll R-2
3.9500
Tri-Co R-7
4.6259
Grundy R-6
4.9830
Grundy R-9
4.4698
Caldwell R-1
5.0756
Caldwell Con. R-4
3.7500
Chariton R-1
4.2925
Linn R-4
4.8289
School districts are the largest taxing entities in the county, and residents pay taxes to one of 12 school districts. Taxpayers throughout the county also pay taxes to the state (0.0300 percent per $100 assessed valuation), county (0.0279), nursing home (0.1495), library (0.3974), health unit (0.3389), ambulance district (0.1499), senior citizens' fund (0.0498), and the developmentally disabled (0.0997). Property owners also pay township taxes and taxes to road and bridge (amounts vary by township). According to where the property is located, taxpayers pay additional taxes to cities or other entities.
See the list of county levies and tax rates here.
Livingston County, Missouri, Use Tax...